Read this exclusive interview with Vikaas Gutgutia, Founder & Managing Director, FNP Group about the phenomenal rise of the group and his vision for the company.
FNP was established in 1994 and flower bouquet delivery was the first and only thing that the company was into. From just 1 flower shop in Delhi during 1994, FNP is now the largest florist chain with close to 400 stores (and still counting) across all the major cities and towns of India.
Today, Ferns N Petals Group encompasses FNP Retail & Franchising, FNP E-commerce- India, UAE, Singapore & Qatar, FNP Weddings & Events, Floral Touch- India & UAE, FNP Gardens, Handicrafts, The Flagship Store by FNP, WDH (Wedding Design Hub), FNP Cakes 'N' More and FNP Media.
We spoke to Vikaas Gutgutia, Founder & Managing Director, FNP Group about the phenomenal rise of the group and his vision for the company. Here are some excerpts from this exclusive interview
Post covid the wedding industry has witnessed a robust growth, what is driving this growth?
Weddings have always been a celebration in India, it's a lifetime occasion where people go all out. During the pandemic events were restricted, numbers were limited. A lot of people waited for this to get over so that they are able to celebrate their weddings without any constraints. This has automatically resulted in a robust comeback. At least 30 to 40% of weddings were held back, families were waiting for the pandemic to get over so that they can do justice to the big fat Indian weddings.
We have recently seen the gold prices going up and the wedding season is here, do you think it will have any impact?
Indian weddings are classified into three different categories. One is the affluent segment, where the prices are not relevant, usually this range from INR 2 crore to 10 crore , where the price does not affect the choices.
There is another category between INR 50 Lakhs to INR 2Crore. This segment is very price sensitive. They evaluate the pros and cons and will probably opt for something which is more reasonable or which makes more economic sense. INR 50 Lakhs and below are small weddings where they are more worried about other things in life than gold.
If you look at the journey of FNP, it has seen phenomenal growth and now you have 70,000 product offerings & 10,000 daily orders online. How do you see this journey when you look back?
We have always been very sensitive about What Next?. That is the approach we follow every day. So, to execute something new, to do something which has not been done, is a quest, should I say a driving force. This method has helped us expand in different directions be it in gifting or wedding. In weddings, we take care of most of the segments in-house: from decor to hotels, banqueting to wedding planning; whatever goes into a wedding is done under the umbrella of FNP Weddings and FNP Venues. In gifting, we have taken an omni-channel approach and now we have diversified overseas too. We have also launched some innovative services like Baby Bless and Last Journey and both have been very well received.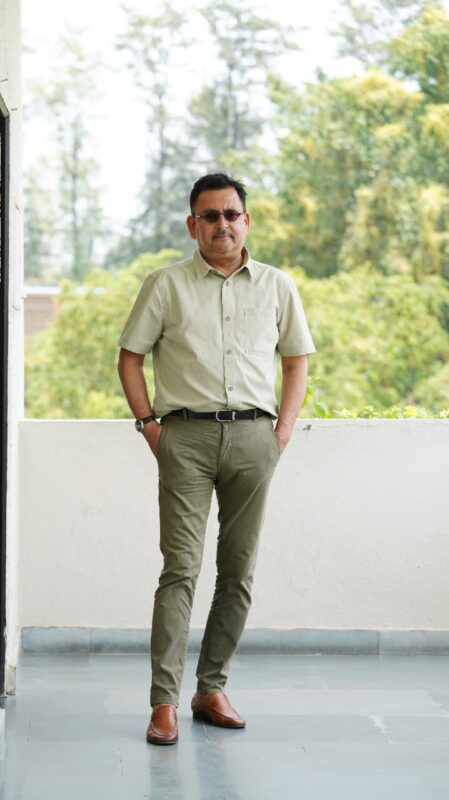 BabyBless is a new initiative by FNP which is a comprehensive service provider for all baby-care needs, starting from the early days of pregnancy until the baby completes its first year.
Last Journey which was launched in October 2020 offers personalized services for funerals and cremations.
Setting up a new venture and making it successful is not an easy task, tell us what went behind your ventures–Baby Bless and Last Journey to make them successful?
There are three things which are very important, which I consider before getting into a new vertical. First is to understand the market, second recognize the competition and lastly focus on the USP.
Among the different verticals at FNP, which one has the biggest contribution to your business in terms of market share and revenue?
Our retail vertical is the biggest revenue generator which is fnp.com and FNP retail outlets. It's contributes 50 – 55% of our total business, 25% comes from our weddings and 25% comes from different verticals put together.
You have also expanded into international markets, what's your strategy for that?
FNP is directly operating in 7 countries. We get some 1,200 orders a day from the UAE and Singapore operation. Indian origin residents staying in these countries contribute close to one-fourth of its revenue. The UAE, Singapore & Qatar arms are looking at a growth of 50% in revenue generation. Recently we have launched our services and store operations in Saudi Arabia and Malaysia also. Soon we will be expanding our presence in Middle east and APAC market and exploring Kuwait, Bahrain, Oman, Indonesia, Philippines as the next target market.
Wedding industry drives the economy too. In your view, how big is the wedding market in India and do we see it getting more organised as we move forward?
I may not be able to give you the exact size of the wedding industry in India, but in my view it will be close to USD 50 billion or more. Weddings are extravagant affairs in India. Here people start saving early for their weddings. I have witnessed certain families living a very ordinary life but when it comes to weddings, they tend to leave the big industrialists behind in terms of spends.
As far as the current state of the wedding market is concerned, it's gradually getting organised. And for any market to get organised, the most important part is to eliminate the 'Kacha' part. A lot of black money is still being utilised in wedding celebrations, but this is steadily decreasing.
When I started my business, many people in the industry did not even know what a bank cheque was. Things have changed greatly now and there exists greater levels of transparency. If right government policies are implemented within a few years the countless transactions in the wedding sector will become 100% transparent. The industry will take a big leap. Till date 50% of the money spent on weddings go unrecorded.
There exists an agriculture ministry, a railway ministry then why not a wedding ministry? When the wedding industry is contributing so much, there needs to be a separate ministry for to monitor the industry.
What are the bigger challenges overall in the wedding industry?
I still feel the wedding industry is ill organised and most of the players who are seriously involved, especially in event planning, decor, banquets etc, are neither small entities, nor big establishments rather they are somewhere in between. Hence there has to be a steady flow of investment which can only come when things are transparent.
I guess the moment it evolves into an organised institution and some notable personalities, serious business houses start contributing, only then will we see the real growth. Right now it remains scattered, it's a seasonal business where stakeholders operate for four to five months and the next seven months it becomes increasingly difficult for them to survive.
To address this issue, we started a campaign called 'Har Din Shubh' The idea is not to have any fixed wedding dates. The day I'm born, there's no mahurat, the day I depart there will be no mahurat. Then why a mahurat for weddings? If you choose to get married on a day, which is not an auspicious day as per the calendar, your expenses are reduced by 50%. This trend will gradually become prevalent.
A lot of young people get married as per their convenience, and interestingly, the success rate of such marriages are higher than the ones which follow the Saya dates.
Hence everyday is a good day. The hotels will give you a discounted rate. The caterer will give you an economical deal and you will manage to get a good bargain for decorations and floral arrangements. Everything will be less expensive and I feel gradually this trend will take over the tradition.
So, while you spoke about your expansion plans globally, what are your plans to cater to tier-1 two 2 cities in India?
We deliver to almost 99% pin codes in India. There are 700+ districts in the country and we are expanding our footprint district wise. We currently have 400+ outlets – cakes and flowers put together and we are planning on opening two stores a week for the next financial year. We are undertaking extensive software upgradation in backend to make the process seamless.
Tell us about Udman Hotels
Udman Hotels by FNP are a set of boutique hotels that are further categorised into business hotels and wedding hotels. Business hotels are city centric with small banquets meant for corporate conferences. While our wedding hotels come with large banquets where one can host residential weddings. We intend to add almost 10 new hotels every year to our itinerary. So, in the next 3 or 4 years, we are looking at adding 50 new hotels.
You have also raised a significant capital recently, where is that funding going?
As you know, we have never done any acquisition or branding in terms of marketing. Now with the new boost of funds, we are planning to acquire select companies which are relevant in the gifting space. If you notice, we have also changed our brand name from Ferns and Petals to FNP, because we are not just a floral brand anymore, but a new age gifting giant. In short, we are planning aggressive marketing in the upcoming times.
You are a successful business leader, what is your leadership mantra?
To me leadership mantra is all about managing people, thinking ahead and taking risks. I manage people, and people in turn manage business. This is how I see it. All my employees, collaborators have been working with FNP for years. I take care of them and consider them an important part of the family. I make sure to encourage their positives and overlook the negatives.
How is FNP's approach as far as sustainability and eco-friendly weddings are concerned?
The fact is that however hard we try, it's very difficult to fight the traditions. At FNP, we are super conscious of this fact and all our weddings follow this concept, right from the material used in the banquets for décor to vegan, organic menus.
Everything is utilised in a mindful manner to fight wastage while keeping the health of our consumers in mind. From great looking eco-friendly décor we get down to the nitty-gritty, taking care of a lot of things to extend our sustainable approach. Indian weddings are known for their conspicuous consumption which is environmentally hazardous. To address this problem many couples are indeed opting for green weddings.
We have been curating weddings & events where everything from food to decorations to bridal outfits and even jewellery is sustainable. E-invites or physical ones made of recycled paper are opted at such nuptials. During the meetings, we also advise people to go for garden weddings to optimally utilise natural lights which not only saves the environment but also is cost effective.
For millennial brides opting for floral jewellery instead of traditional gold, we offer exquisite pieces crafted from fresh blossoms like rose and orchids.
Food buffets are one of the biggest waste generators at Indian weddings hence we incorporate healthy plant based dishes made from locally-grown organic produce to bring down food surplus. Biodegradable cutleries made from banana and bamboo leaves, as well as strategic placement of trash bins to segregate the wet and dry waste further minimises environmental degradation
What are the latest trends in the wedding industry?
Firstly, destination weddings continue to be a big trend. I haven't seen any family coming back and regretting that they had a destination wedding. Look at Udaipur, Dubai and now Jaipur. Unlike the grand old 'Big Fat Indian Weddings', youngsters today are opting for a gathering of 100-200 closely connected people, relatives and friends and not going overboard in inviting everyone.
Also, when it comes to destination weddings, you can't invite 2000 people rather stick to 100 – 200 guests.
---